Hiking Mount Afadjato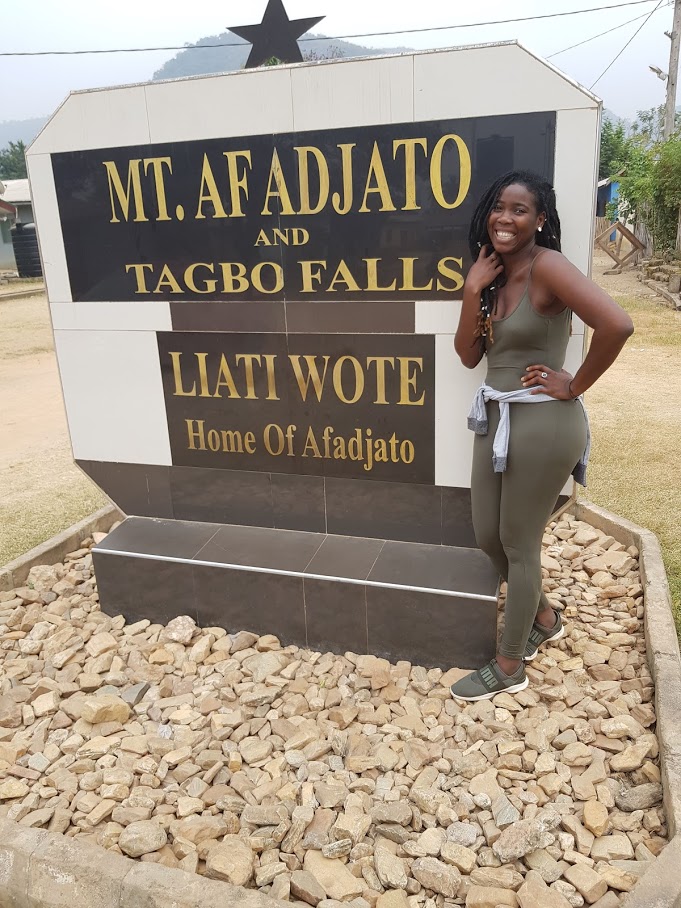 by Cudjoe
Last year, I told myself the next time I go to Ghana my top priority on the trip would be to hike one of the highest mountains in Ghana. And I am glad to say, on January 7, 2019, after six long hours in the back of a tiny sedan, I made my way to Liate Wote, Volta Region to fulfill this daring priority. Mount Afadjato is at an elevation of 885 meters (2,904 ft) and close to the border of Togo. In fact, when we arrived, I got a message from T-Mobile welcoming me to Togo. I learned we were about 30 minutes drive away. People in the Volta region mostly speak Ewe and English, no Twi, this was new to me because almost every Ghanaian I have come in contact with speaks at least three languages, Twi, English and something else.
I was joined on this journey by my friend, part owner and member of Dance the Royal Beat Fatima and two other friends who reside in Ghana, one who I am saddened to say, did not make it to the mountain top. The rest of us who did, would not trade that feeling of making it to the Top of Mountain. IT WAS BREATHTAKING!
The road was bad and very dusty, sitting in the back of a very small car I felt every little bump, should I say bumpy ride, because it sure was. It almost felt as if my butt was scraping the ground, just saying, the car was low but we survived.
Side note: I recommend a bigger car for this type of road trip preferably an SUV.
When we arrived, we went to the Tourism office to pay the entrance fee, which was 50 ghs ($10) for 4 people and were provided with a tour guide named Kevin. Kevin is 16 years old and he hikes Mount Afadjato regularly in flip-flops within 15 minutes. Quite impressive isn't it?
On our hike we saw large corn and cocoa farms. Yes real cocoa. We began the hike at 1:20 pm and made it to the top at 2: 10 pm. I would say 10 minutes was used to capture some pictures but the remaining time was the struggle to climb up. Boy, was it a real challenge to climb up. We did everything we could to get up there including crawling, talk about by any means necessary. We were very determined and not turning back although it crossed my mind MULTIPLE times. I began asking myself rhetorical questions like 'Who asked you? Couldn't you pick anything else? What were you thinking?'
Folks, in the end it was worth every breath, sweat, and whining. It was a bit foggy up top so I couldn't see much but I cannot express the feeling of being on top of Ghana, it is something you have to feel yourself. I had a moment of solitude with the Most High, thankful for giving me the strength and courage to make it this far in life to start of the year on motivation.
We then hiked on an easy trail to Tagbo Falls which took another 45 minutes but it was a straight shot. Another beautiful moment of admiring the Creator's work, I will definitely do it again. This was an unfathomable experience that was self-fulfilling, a mental cleanse, peaceful, tranquil and most importantly enjoyable and should be on your bucket list.
The next trail I want to complete on my next trip to Ghana is Mount Aduadu and Wli Falls not too far from Afadjato, care to join?
What is the longest trail you hiked and where was it?